2023 The Remote Access Software Free For Windows 10, 11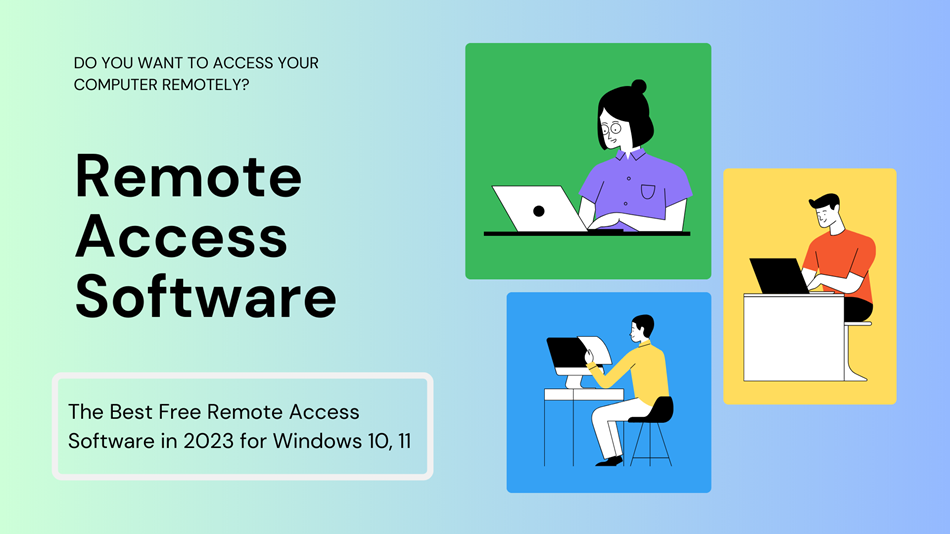 Remote working has become increasingly important in people's lives. For example, sometimes it may be necessary to control a work computer remotely from home to deal with urgent work. So how can I remotely access my computer for free? This requires the use of remote access software. Remote access software helps users securely access computers from any location. Users can use remote access software in many situations. With the increasing demand for remote access software by users, a wide range of remote access software has emerged in the market.
Most of the remote access software comes with a plethora of features that can increase the efficiency of your work. So how should users choose? This article will introduce you to one of the remote access software free for Windows to solve your worries about how to choose.
AnyViewer: The best remote access software free for Windows
What is the best free remote access software for Windows 10 and 11? AnyViewer would be highly recommended. It is popular as a comprehensive, secure, and free remote access software. So what makes AnyViewer so great? The next article will reveal the answer.
Why AnyViewer deserves to be chosen?
Why AnyViewer is the best free remote access software for Windows? You will get the answer next:
Free. AnyViewer offers a free plan for users to have a free version for both personal and commercial use. The free version has enough features and functionality to meet the needs of the users. Most other software on the market, on the other hand, does not offer such a free plan.
High compatibility. AnyViewer supports various operating systems. It, for example, is compatible with Windows 11/10/8.1/8/7 and Windows Server. In addition, it supports iOS and Android. This makes remote access more flexible and convenient for users.
High security. AnyViewer uses a strong 256-bit Elliptic Curve Cryptography (ECC) algorithm that prioritizes data security through end-to-end encryption. It also uses two-factor authentication for better protection and all-around security of your connection.
Easy handling. AnyViewer provides an intuitive and simple interface that is easy to understand and use. Without any complicated operation process, users can easily achieve seamless remote access.
Stable and fast connection. AnyViewer uses improved connection technology to automatically select the best server connection for a faster and smoother remote access experience. Users can have stable and fast remote access without bothering with the environment.
Comprehensive and excellent functionality. AnyViewer not only supports remote access but also provides users with other powerful features. It allows you to perform file transfers during remote access, synchronize remote device sounds, perform unattended remote access, text chat, multi-monitor support, screen sharing, and a host of other great features.
There are many more advantages and benefits waiting for you to explore. Download AnyViewer and start your remote access experience now.
How to use AnyViewer with ease
Now that you have a general understanding of AnyViewer, let's learn how to use it for remote access
Step 1. On both of your devices, install and launch AnyViewer. To create an account, go to "Log in" and then "Sign up".
Step 2. Fill out the signup form.
Step 3. Log in to your newly created account. After a successful login, your device will be automatically assigned.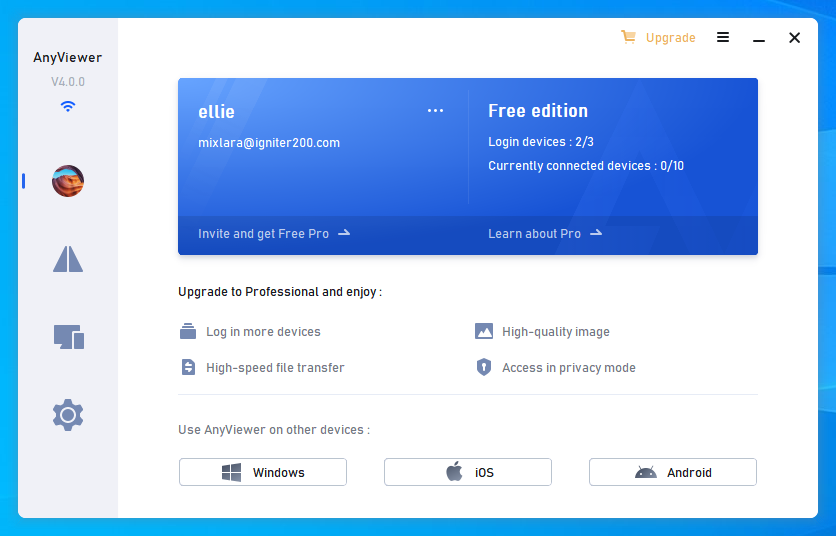 Step 4. Log in to the same account on your other device. Navigate to "Device" select the device you want to access remotely and click "One-click control" to enable unattended remote access.
Tips: If you want to unlock more benefits, you can upgrade your account to a professional or enterprise plan:
Access more devices remotely with one-click control.
Create more concurrent sessions.
Enjoy remote access in Privacy Mode.
The number of remote devices that can be controlled simultaneously by a single computer is increased to an unlimited number.
Enjoy faster file transfer speeds.
An unlimited number of files can be transferred simultaneously.
Conclusion
Which is the remote access software free for Windows? You've got your answer after reading this article. Remote access is becoming more and more important in our lives, and finding good remote access software can bring us more convenience. Don't hesitate to use AnyViewer, it will be your best choice. Because it offers the highest level of security, comprehensive functionality, simple operation, and a cost-effective price. With AnyViewer you will get a smooth and fast remote access experience.