Best Choice for Hard Drive Recovery [Detailed Tutorial]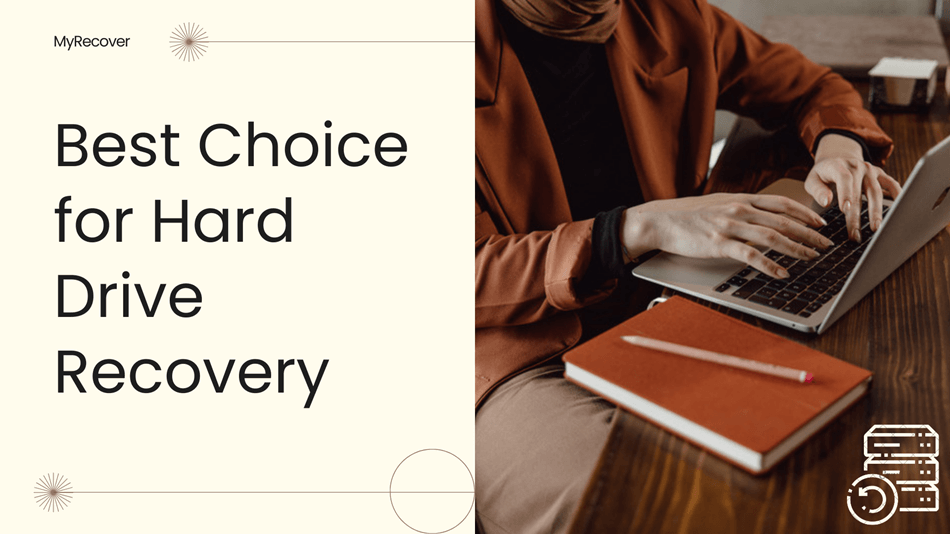 A hard drive goes by many names: hard disk drive (HDD), hard disk, or fixed disk. For decades, HDDs have reigned as the primary secondary storage device for general-purpose computers. Consequently, numerous users have developed the habit of saving their documents, photos, videos, and other critical data on these hard drives. Yet, it's almost inevitable to encounter data loss while utilizing computers. In such moments, a common question arises: Can I recover deleted files from a hard drive? Is there a way to recover deleted files on Windows 7, 8, 10, or even 11? This article will provide the satisfied hard drive recovery method.
What constitutes the best software for recovering deleted files from a hard drive? Unintentional deletions, system failures, severe physical damage, or disk formatting can all lead to one common woe – data loss, an unexpected and distressing occurrence for users who rely on hard drives.
Accidents strike without warning, leaving you with a burning desire to reclaim your lost files. In cases of severe hardware damage, sending your device to a data recovery lab, while costly, may be the only option. But what if your data loss isn't tied to physical damage? Must you still bear an exorbitant expense for recovery?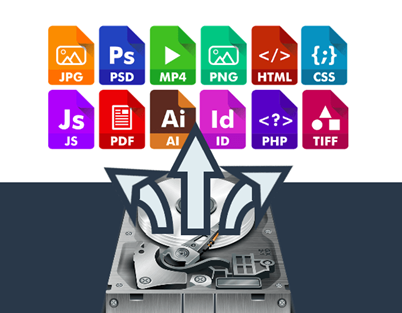 No, you don't. Users turn to professional hard drive recovery software, some of which offer free versions or are cost-effective. The next question arises: What is the most suitable hard drive data recovery application? This article presents a selection of the best hard disk data recovery tools based on specific criteria.
With the detailed information provided here, you can make an informed choice to recover data from your hard disks effectively.
How to choose hard drive data recovery software?
How do we decide on hard drive data recovery software? Generally, these applications must align with users' needs and excel in specific areas to effectively serve them. So, what criteria guided our selection process?
First and foremost, the software should be capable of recovering multiple data types under various data loss scenarios. The more versatile, the better.
Secondly, it should offer a user-friendly and convenient data recovery process. Software that requires extensive learning to operate for hard drive file recovery won't be favored.
Thirdly, a data recovery tool should be efficient in data retrieval. In other words, it should be swift and boast a high recovery success rate.
Fourthly, compatibility is a significant factor. Windows still dominates the desktop OS market, so most tools cater to Windows users. Besides, software that supports other operating systems is considered a plus.
These standards hold universal value and will help you a lot if you need to recover lost files from hard drives.
Best hard drive recovery software – MyRecover
In this regard, MyRecover emerges as the top choice. As the premier Windows data recovery software, it offers an extensive range of recoverable data types, a simple and clear interface, fast speed and high recovery rates, and broad compatibility.
MyRecover specializes in the retrieval of deleted, lost, or formatted data from HDDs, SSDs, USB drives, SD cards, and various other storage media used with Windows PCs.
Moreover, MyRecover offers several advantages, including:
Recover data from various data loss scenarios, such as deletion, disk formatting, and virus attacks.
Support different storage devices recovery like hard drives, external hard drives, USB flash drives, SD cards, and more.
An intuitive and well-designed user interface.
Compatibility with a wide array of recoverable files, including Word documents, Excel, PPT, JPG, GIF, 3FR, MP3, MP4, MOV, VWM, ANI, ZIP, etc.
Keep the original filename, directory, and path when recovering deleted data.
Flexibility in selecting files for recovery from different sources.
Compatibility with Windows 11, 10, 8, 7, and various file systems like NTFS, ReFS, FAT32, and exFAT.
Swift scanning and a high success rate in data recovery.
How to swiftly recover data using MyRecover
Step 1: Download and install the MyRecover program, then launch it on your computer.
Step 2: Load the disk and select the hard drive containing your files, then click "Start Scan".
Step 3: MyRecover employs a combined scanning approach, combining Quick Scan and Deep Scan to locate all deleted or lost files. During scanning, you can use search and filter features and preview files as necessary.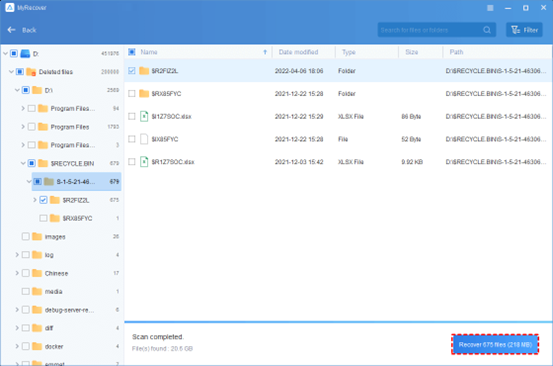 Step 4: Choose a new location to save your recovered data and click "Recover x files" to begin the recovery process.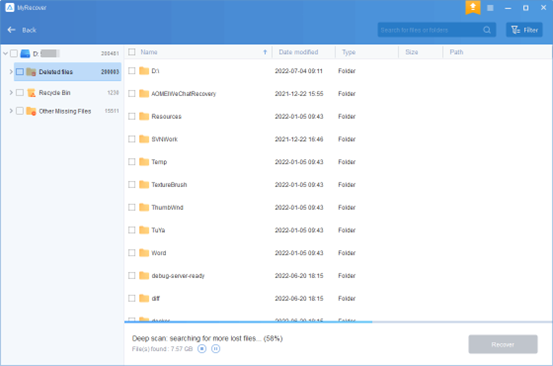 Written in the end
Recovering deleted files from hard drives can be easy. Among the available options, the most effective method is to use MyRecover, the best hard drive data recovery software. MyRecover can directly retrieve up to 200 file types and boasts a high success rate, making it the top choice for data recovery.