World's No 1 Noob Games That Anyone Can Play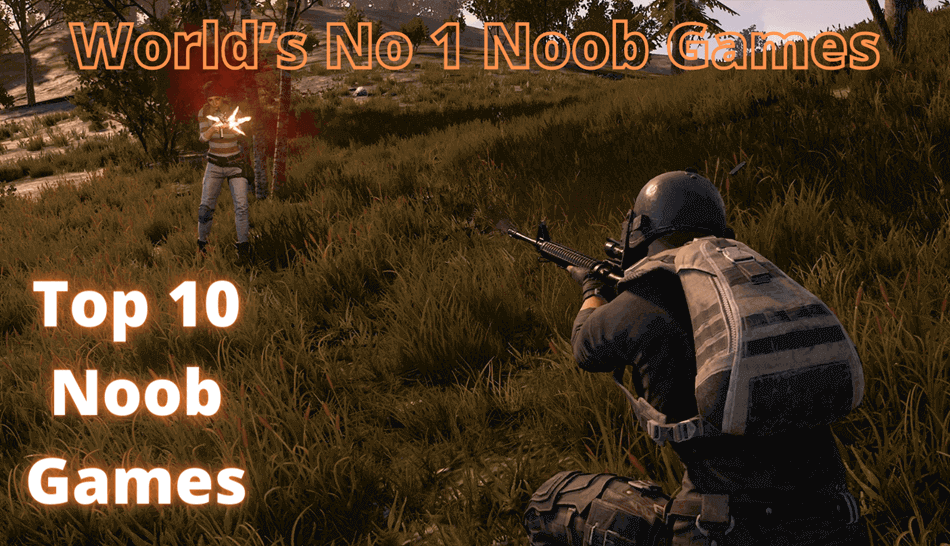 In this article, we will look at the world's No 1 Noob games anyone can play on their smartphones regardless of their experience level.
Besides all the social restrictions and health precautions, one of the things the pandemic has brought is a lot of free time. For many people, this free time can be spent listening to music, watching netflix, reading a book, or playing a game on their phones. Our focus here is the last group, i.e, the budding game lovers.
We've seen casual gaming gain more popularity in recent months as a lot of people are now locked up in their houses or forced to work from home. And that is simply because people are seeking for ways to entertain themselves.
For noobs, or those who indulge in games mainly for fun or leisure, finding a game that offers the right pace can be a challenge. And in case you're wondering who a noob is, it's a term used to refer to a newbie player.
Without wasting time, let's delve straight in world's No 1 Noob games anyone can play
[f_ads_4]
Angry bird took the gaming world by storm when it was published some years ago by Rovio Entertainment Corporation. Ever since then, it has surged in popularity and continues to do so with its fascinating gameplay, characters, and graphics. It has become one of the most iconic mobile games with a huge fan base worldwide.
You are given a funny puzzle of small birds without wings to fight pigs stealing eggs. The pigs are placed behind (hidden) barrels, walls, and structures. Your job is to shoot the birds at the pigs using a slingshot. The outcome of each attack is largely dependent on the direction of your shot and how well you can target the pigs and structures.
9. Hungry Shark World
Are you hungry for some action? You will get enough and more in Hungry Shark World. The game tells a familiar story; one of the sharks exploring the ocean in search of prey. Of course, the sharks are you while the preys are different sea animals such as sea turtles, fish, smaller sharks, and even human swimmers. You can get over 12 sharks by unlocking them at different points. Each one of these come in different sizes and appearance and has their unique attributes. In other words, you will find some sharks larger or more agile than others, while some will have higher life points than others.
As you unlock a new level, a lot of hidden objects and secrets will immediately become available to you to uncover. These include things like letters, chests, and opposition you can fight with. Each level has its own character settings and challenges, which makes the game even more fun. And despite having stunning graphics performance, the game still maintains a fast pace.
8. Beach Buggy Racing 2
Beach Buggy is another fun racing game like Sonic Forces. However, you will find it a perfect match if you prefer something that's not too serious. Compared with other car racing games like Real Racing and Asphalt, Beach Buggy Racing 2 is a lot simpler and easier to play. So, it's definitely a winner for noobs. There's no end to the funky vehicles and insane tricks; all of which makes every race a thrilling encounter!
7. Fruit Ninja
Fruit Ninja has over a hundred million downloads worldwide, which makes it one of the most famous mobile video games. It's popular among ardent gamers as well as noobs who are just looking for a game to pass their free time.
In the game, various types of fruits and bounced up which you're to cut by swiping the screen with your fingers. These include fruits like mangoes, watermelon, apples, melons, bananas, and kiwis. There's no actual weapon given; instead, each wipe sounds like a sword. You must be careful not to let any fruits fall without getting cut. If you do, you will lose a life.
[f_ads_4]
6. Subway Surfers
If you're a big fan of Temple Run, then you're going to enjoy playing Subway Surfer. It is an endless runner game developed by two groups – SYBO Games and Kiloo. Ever since it made it to the mobile game scene in 2012, it has continued to surge in popularity becoming a favorite for
many smartphone users who want a game to indulge in during their spare time.
As earlier indicated, the game is very similar to Temple Run, especially when it comes to the basic mechanics. However, unlike Temple Run, you don't need a gyro sensor or accelerometer to move the character. This makes it possible to enjoy the game even while lying on the bird.
5. Jetpack Joyride
Jetpack Joyride has over 75 million downloads, so it's a very popular noob game. If you're familiar with the helicopter flash game that was available on PC back in the day, then you should easily settle into Jetpack Joyride. The major difference is that in the latter, the plot is about a spy trying to escape a research facility using a jetpack – which explains the name.
This spy is a side-scrolling runner that has no limitations. This means, you will always have an opportunity to create new records and beat other players' records. While running, you will be faced with barriers that you have to cross. These include avoiding things like rockets, laser beams, and zappers. Colliding with any of these will cause your body to tumble and slip for an additional distance. You will also get jetpacks to try along the way, as well as cute character skins. Simply put, there's no dull moment in the game.
To fire the jetpack and get Barry (you) up, just tap anywhere on your phone's touchscreen.
4. Temple Run
With over 1 billion downloads on mobile, Temple Run needs no introduction. It's been nearly a decade since it came on the scene, yet it continues to dominate. For many, it's, without doubt, the world's no.1 noob game.
One of the major highlights of the game is its simplistic gameplay, which appeals to almost anyone, whether children or adults. It puts your responsiveness and reflexes to the test as you run to overcome various obstacles along the way.
It's a chase for your life with three bloodthirsty gorillas coming behind you. With so many narrow turns and unpredictable twists, the adrenaline runs high as you immerse in the never-ending fun.
There's no doubt Temple Run is an android classic – one that remains both charming and exhilarating.
3. Sonic Forces
If you're an old-time gamer, chances are that you've had your share experience with SEGA consoles. If so, then you might remember Sonic the hedgehog. Sonic Forces seems to be a reincarnation of the beloved hedgehog by SEGA on our mobile phones. It is basically an online multiplayer racing game where Sonic competes with his friends for the ultimate prize. You will get the chance to show how skilled you are, and if that's good enough, you could emerge the winner.
There really isn't much to the game with regards to the storyline but it's incredibly engaging with powerful graphics and performance. If you enjoy racing against others to win, then there's no way you won't enjoy Sonic Forces.
[f_ads_4]
2. Doodle Jump
Doodle Jump doesn't have a lot of movement like some of the other titles on the list. But it's got interesting gameplay that is just as entertaining.
The simplicity is what has endeared it to a lot of fans. Even though it's been around for over 10 years, it still continues to garner reviews on the Android and iOS platforms.
The plot is pretty simple – tap to leap higher on platforms. You can access power-ups within the game to push yourself farther, but you should be careful using these as they can pull you off your streak.
While the game is not as popular as classics like the Garena Free Fire, it's still a worthy mention, especially if you're a fan of the more basic games. Do try it out and let us know what you think!
1. Garena Free Fire
To kick off the list, we have one of the most popular games in the battle Royale genre – the Garena Free Fire. The game rose up the rank after the ban of PUBG to become the most downloaded game on the Android and iOS platforms.
As the name implies, it's a survival game where players battle on an island while looking for weapons to kill other players. As a player, you can choose what location to start, what weapons to use, and other equipment to extend your life.
The game allows up to 50 players to compete. Besides the incredible plot, it also offers amazing graphics with superb voice communications. There are virtually no lags during gameplay.
Overall, this is easily the best noob game out there, and most people will agree.
Conclusion
Here is our Top 10 list of the World's No 1 Noob Games That Anyone Can Play, If you know more fun best noob games that are very easy to play, so let us know in the comment section below and we will add these games in this article. Hopefully, you have found this article informative and also useful.