Happy Wheels Free Download for PC
With over a billion players worldwide, Happy Wheels is a side-scrolling, physics-based obstacle course game. The game, developed and released by Fancy Force, has various player characters who travel around the game's many stages in a variety of vehicles, some of which are unusual. Their tagline "choose your inadequately prepared racer, and ignore severe consequences in your desperate search for victory" depicts the ultimate goal of the game. Download Happy Wheels Full Version for your Windows 64-bit or 32-bit PC for free.
[f_ads_4]
To begin, you need to choose from one of the many different levels available in Happy Wheels. Every level will have its unique set of challenges and obstacles. For example, you might find that you have to complete the level by simply reaching the end. On another level, you might notice that you need to collect items. Water Park, Green Hills, and many more are the different modes available. After that, you must choose a racer. These aren't your normal racers; they're characters like a man in a wheelchair or a nerd on a Segway, which adds to the game's difficulty, making it more unique and interesting. The ultimate goal of Happy Wheels is to choose a player and pass through the set of challenges and obstacles to finish the level.
Gameplay
The game's objectives change depending on the level. The players' final goal in most of the levels is to collect tokens or reach the finish lines, while others have no goals at all. The gameplay includes:
Gruesome Deaths & Scenarios
The grisly deaths and scenarios are what make Happy Wheels a major success. Players will be confronted with a range of hard circumstances that are designed to kill the player repeatedly. They can be hit by arrows, run over by larger vehicles, and much more in these scenarios. These components, along with ragdoll dynamics, result in painful but often humorous deaths involving limbs flying, corpses being hurled, or being crushed totally. Each character has two different parts that can be controlled: their vehicles and their bodies.
Unlimited Replayability
Happy Wheels Download for PC is a game with a range of situations that are designed to increase in difficulty as the player progresses through the game's obstacles. These various levels are stored inside, providing gamers with an endless supply of levels to play. Players have the choice to replay their attempted levels, which can be viewed numerous times.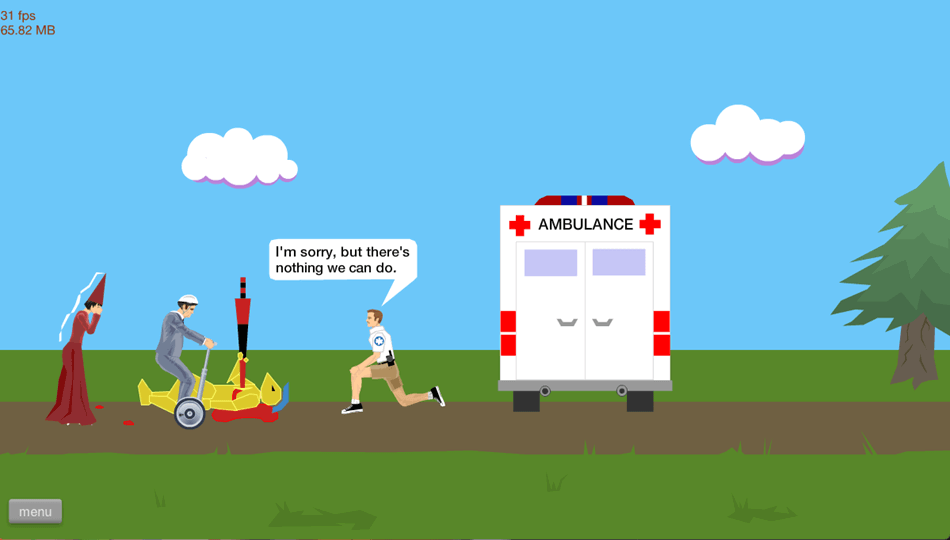 Create Your Levels
The level editor in Happy Wheels Download for PC simply gives players all the tools they need to construct a level full of challenges and obstacles. Similarly, players can build a game that presents other players with a novel, previously unseen challenge. Players can share their maps with others by uploading them to a public server. Using the tools can be challenging at first, but with enough practice, one can catch up.
If you're seeking a challenging experience, Happy Wheels is just what you're looking for. Happy Wheels Download for PC version is a humorous physics game that will keep you entertained and addicted for hours.
[f_ads_4]
Name
HappyWheels
Author
Fancy Force
Category
Arcade
Minimum System Requirements
CPU
Intel Celeron 1.2 GHz / AMD Sempron 3300+ 2000 MHz
RAM
256 MB
Graphics
32 MB
Free Disk Space
100 MB
Operating System
Windows 10 / 8.1 / 8 / 7 / Vista / XP
User Ratings
OTHERS GAMES
[f_ads_3]