Bliss OS Offline Installer
Version: Bliss OS v11.13
File Name: Bliss-v11.13-OFFICIAL.iso
File Size: 1.58 GB
Author: Bliss Family of ROMs
License: Freeware
Updated: February, 16th 2022
Requirements: Windows 10 / Windows 8.1 / Windows 8 / Windows 7
Details: Bliss OS setup for PC 32/64-bit
Security Status: Safe to Use
Are you looking for an android simulator on your laptop or desktop? Do you face challenges when you download other android simulators on your laptop or desktop? Android is the most widely used operating system in the world. However, when people want to replicate that experience of android on their PCs or desktops, many problems occur. But, we have a solution for you. Bliss OS Download (32/64 Bit) Offline Installer is the next best thing for getting an Android-like experience on your desktops or PCs.
Bliss OS is another way to introduce Android to the PC and desktop market. It incorporates an interface similar to a smartphone on your PCs. That means you will experience the same advantages as your smartphone on your PC. In simpler words, Bliss OS Download (32/64 bit) Offline Installer gives a completely new look to your laptops, desktops, or tablet.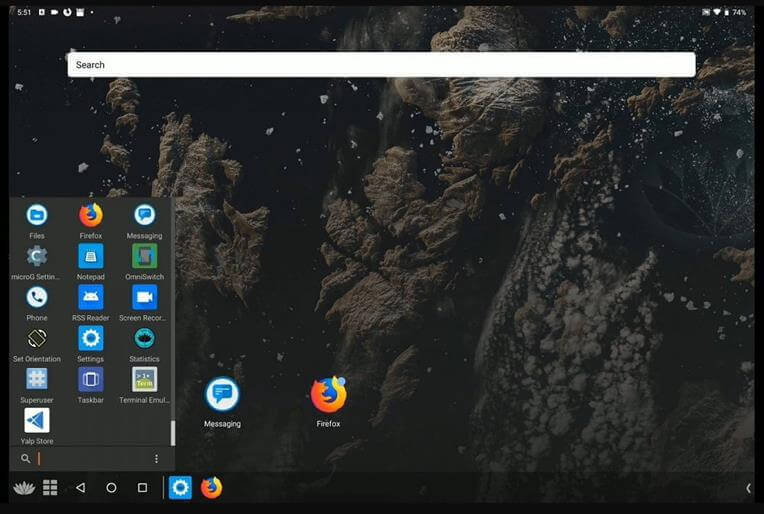 Bliss OS System Requirements & Features
Bliss OS is compatible with any Windows, Linux tablet or PC, or Chromebook. The features of Bliss OS Download (32/64 bit) Offline Installer include:
User-friendly Design
Bliss OS comes with a plethora of design options. You can change the design to your liking and use any theme you like.
High Performance
One thing every individual who uses a desktop or PC looks for is the speed and smooth functioning of the system. Surprisingly, Bliss OS focuses on speed and catalyzes the functioning of the system with any application you download.
Battery-friendly
The interface of Bliss OS is designed in such a way that it saves battery. Bliss OS Download (32/64 bit) Offline Installer helps minimize battery usage by turning it with the applications downloaded.
Customization
You can easily customize the settings of your system as you like with the help of Bliss OS. Bliss OS is designed in such a way that it allows you to set your device according to your requirements.
Safety & Security
Bliss OS is safe to use. Additionally, it also has security features that can prevent your system from threats and viruses. This feature can also be used to secure your data, which otherwise is very risky.
Compatibility
One of the most important features of Bliss OS is compatibility. This installer is compatible with all kinds of devices. It works smoothly with all systems giving an android-like experience to the users at a good speed.
There is currently a plethora of software available for Windows that allows you to experience an android operating system. All these software come with certain benefits and are popular for different reasons each. However, undoubtedly, Bliss OS, an open-source operating system, is the best software you can choose to experience an operating system just like Android. Bliss OS gives you an unforgettable experience of Android 10 and Android Pie on your Laptops, Desktops, or Tablets.
Installing and setting up Bliss OS is very easy. If you're curious about Bliss OS and how it works, take advantage today. Now is the time to download it and experience the best simulator on your PCs and Desktops today!
OTHERS SOFTWARE
[f_ads_3]